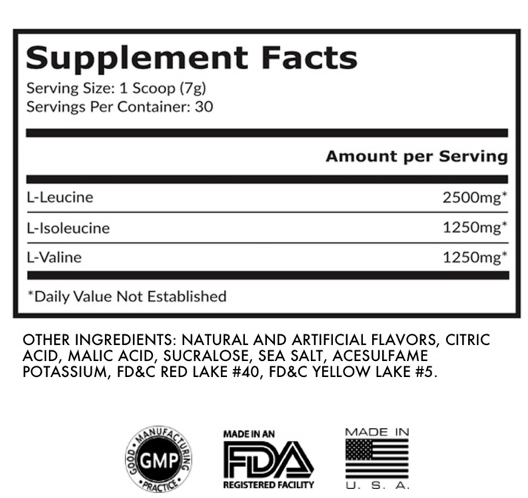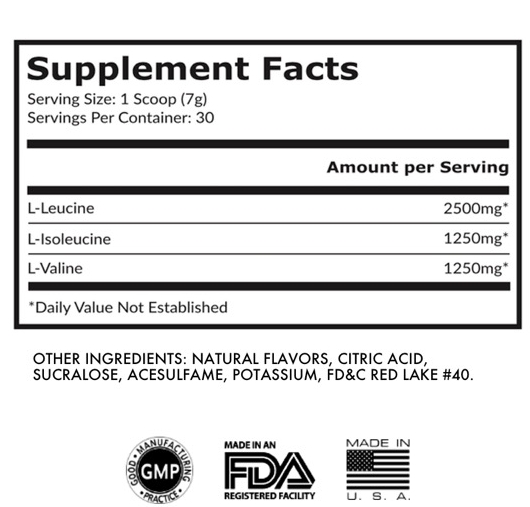 BCAA
Passion Orange Guava | Strawberry Lemonade
Branch-chain amino acids are essential to stimulate greater protein synthesis and to maintain and enhance the muscle building process. Our BCAA delivers L-Leucine, L-Isoleucine and L-Valine as crucial components needed to deliver results.
Supports Muscle Growth

Reduces Muscle Breakdown

Promotes Metabolic Health

Supports healthy hydration habits
Delivering 5 grams of pure BCAA's per serving, our instantized BCAA blend mixes immediately in water for a smooth and refreshing pre or post-workout supplement or support for healthy living.
BCAA's are useful in achieving weight loss goals to help control appetite and deliver key nutrition while supporting essential hydration.
Leucine – The primary activator of the mTOR pathway, the most researched pathways of muscle growth.

Isoleucine – Increases glucose uptake and the usage during exercise to induce muscle protein synthesis.

Valine -Supports muscle synthesis.
Additionally our BCAA's come in specialty flavors which have been rated as some of the best tasting supplements in the industry. Don't compromise on taste, texture or effectiveness.
We offer a complete line of manufacturing options for our clients. Having supplied thousands of clients we understand your needs and will provide to you the most cost-effective and streamlined process together with the highest degree of satisfaction and quality control in the industry ranging from formulation to private labelling.
Our state-of-the-art manufacturing facility use the most advanced technologies to produce our supplements, vitamins, and other nutrition products. All manufacturing and testing is conducted in our FDA inspected and registered facility according to GMP-certified facilities.
Need help creating the perfect label? We can help.
Contact a Rep for best pricing Now!
Phone: 801-788-4350
Who is Intermountain Nutrition:
Additional information:
Weight 1.0 lbs | Bottle Color Black | Servings 30 | Lid Color Black | Bottle Type HDPE | Bottle Size 20 oz
*These statements have not been evaluated by the Food and Drug Administration. This product is not intended to diagnose, treat, cure, or prevent any disease.