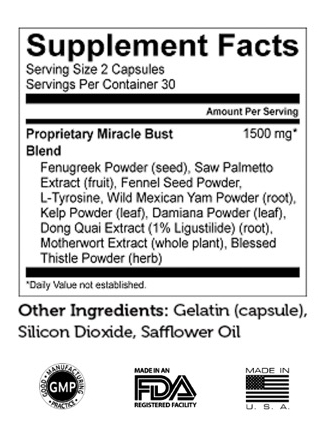 Breast Enhancement
Isolating and delivering highly potent ingredients, this unique formulation works quickly from the inside out to target and help balance the specific hormones and processes required for lasting enlargement of tissues without the retention of water. Specifically this potent formulation targets breast tissue growth and improving mammary gland health providing uplift, fullness, and more firm breasts.
Smooth and Even tone of breasts

Regulate and maintain healthy hormone levels

Support proper Mammary function

Stimulate growth in target areas
The miracle bust blend delivers a complete offering of natural botanicals that target biological processes to enhance the fullness, growth, and healthy development of a woman's breasts, hips, and buttocks in weeks. In a high demand market segment, this supplement is a natural and safe alternative to surgery that brings home results in a cost effective and convenient method.
Packing together these highly robust ingredients in a single, simple and effortless delivery system your clients will be very satisfied with the results.
Use daily as directed and wear properly fitting bra/clothing and wear sports bras if outdoors during the day.
We offer a complete line of manufacturing options for our clients. Having supplied thousands of clients we understand your needs and will provide to you the most cost-effective and streamlined process together with the highest degree of satisfaction and quality control in the industry ranging from formulation to private labelling.
Our state-of-the-art manufacturing facility use the most advanced technologies to produce our supplements, vitamins, and other nutrition products. All manufacturing and testing is conducted in our FDA inspected and registered facility according to GMP-certified facilities.
Need help creating the perfect label? We can help.
Contact a Rep for best pricing Now!
Phone: 801-788-4350
Who is Intermountain Nutrition:
Additional information:
Weight 0.4 lbs | Bottle Color White | Servings 30 | Count 60 | Lid Color White | Bottle Type HDPE | Bottle Size 150cc | Capsule Size 0
*These statements have not been evaluated by the Food and Drug Administration. This product is not intended to diagnose, treat, cure, or prevent any disease.