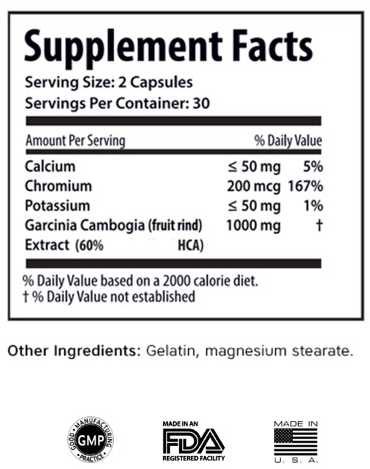 Garcinia 60%
We provide the highest grade of maximum potency all natural Garcinia Cambogia extract with 60% HCA. With a reputation for quality you can remain focused on the many scientific studies of this clean and highly effective supplement. Its smooth and easy to take capsules are ideal to help support weight loss, trimming, toning safely and naturally.
Enhances the satisfaction of food to curb appetite

Supports reduction in body fat

Safe and natural ingredients

Stimulant Free
Garcinia Cambogia contains 'hydroxycitric acid' (HCA) which is the active weight loss ingredient in the Cambogia fruit that works to support the reduction of body fat in a 3 step method without added stimulants and being regarded as side-effect free.
First HCA works to block excess carbohydrates and sugars from being converted and stored as fat resulting in a greater availability of energy. It then helps to support the body to naturally boost cellular metabolism helping to increase the natural burn of calories in the body, and finally HCA helps to promote healthy serotonin levels – delivering the feeling of tranquility and satisfaction thereby assisting the user to curb appetites and mental barriers to achieve deeper results in a weight loss program and other health goals.
The Garcinia Cambogia used is tested multiple times through our process to ensure the highest level of quality assurance. Partnered with the high grade active ingredients our formulation delivers the perfect matches of supplementary ingredients, Potassium, Calcium, and Chromium to protect the active ingredient through digestion, enhance absorption and supports delivery of the active ingredient to your body and protection of the for optimal results.
We offer a complete line of manufacturing options for our clients. Having supplied thousands of clients we understand your needs and will provide to you the most cost-effective and streamlined process together with the highest degree of satisfaction and quality control in the industry ranging from formulation to private labelling.
Our state-of-the-art manufacturing facility use the most advanced technologies to produce our supplements, vitamins, and other nutrition products. All manufacturing and testing is conducted in our FDA inspected and registered facility according to GMP-certified facilities.
Need help creating the perfect label? We can help.
Contact a Rep for best pricing Now!
Phone: 801-788-4350
Who is Intermountain Nutrition:
Additional information:
Weight 0.4 lbs | Bottle Color White | Servings 30 | Count 60 | Lid Color White | Bottle Type HDPE | Bottle Size 150cc | Capsule Size 0
*These statements have not been evaluated by the Food and Drug Administration. This product is not intended to diagnose, treat, cure, or prevent any disease.