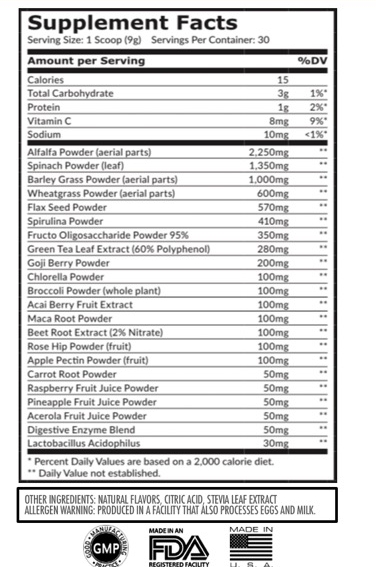 Greens
Berry | Tangerine
Eating healthy on the run is just a scoop away with our exotic blend of concentrated extracts to ensure a healthy phyto-nutrient, antioxidant rich diet of essential greens, fruits and vegetables. Now eating 5 to 10 servings of fruits and vegetables a day is as easy as adding water.
Powerful Antioxidants and Full Range of whole leaf Greens

Packed with Pre and Probiotics

Rich in Vitamins and Minerals

Smooth Amazing Taste
Greens is a vegan and gluten-free raw food. It contains whole leaf greens, fruits, vegetables in a complex and rich formulation to balance and optimize effectiveness.
Combining 10 of the worlds most potent antioxidants Greens work to detoxify and optimize cellular function relying on ancient and natural science and nutrition.
Utilizing an effective fiber blend Greens also supports healthy digestion and the effective movement of nutrition through your system, perfect for optimizing energy levels and kick starting weight loss goals.
Packed with a Pro and Prebiotic blend Greens supports healthy gut health resulting in increased immune efficiency and heightened nutrient absorption for increased energy levels.
Ensuring that the potency and fullness of this product are absorbed effectively Greens also delivers a world-class digestive enzyme blend to assist in the breakdown, delivery, and absorption of the nutrients into cells for use.
Lastly, unlike other natural products our Greens tastes amazing with just water.
We offer a complete line of manufacturing options for our clients. Having supplied thousands of clients we understand your needs and will provide to you the most cost-effective and streamlined process together with the highest degree of satisfaction and quality control in the industry ranging from formulation to private labelling.
Our state-of-the-art manufacturing facility use the most advanced technologies to produce our supplements, vitamins, and other nutrition products. All manufacturing and testing is conducted in our FDA inspected and registered facility according to GMP-certified facilities.
Need help creating the perfect label? We can help.
Contact a Rep for best pricing Now!
Phone: 801-788-4350
Who is Intermountain Nutrition:
Additional information:
Weight 1.0 lbs | Bottle Color White | Servings 30 | Lid Color White | Bottle Type HDPE | Bottle Size 20 oz
*These statements have not been evaluated by the Food and Drug Administration. This product is not intended to diagnose, treat, cure, or prevent any disease.