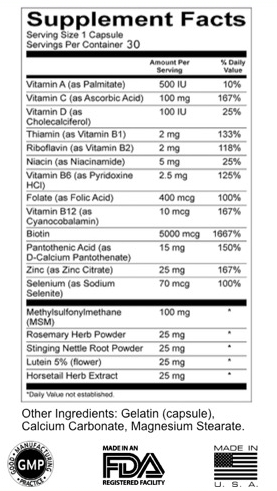 Hair Skin Nails
Lustrous hair, soft vibrant skin, and strong and healthy nails are just an order away with this complete formulation. Comprised of the perfect balance of vital nutrients, essential vitamins and key minerals and botanicals this expert formula delivers the right results through quality ingredients and cofactors.
Soft, supple, strength, and shine

Enhances natural collagen production

Antioxidants protect against aging and free radical damage

Works to optimize natural processes for lasting results
Stacked with an all-star lineup of ingredients this product is your go-to beauty supplement. Biotin works to metabolize lipids to create and strengthen the growth of hair. The range of B Vitamins support healthy metabolism and energy for body systems to perform to their peak potential. Vitamin C acts as an antioxidant and together with Vitamin B contributes to the production and formation and maintenance of collagen levels which make up supple and healthy skin and hair. Collagen is required to maintain the youthful structure of skin and works to ward off wrinkles and lines. Vitamin E and A contribute to the anti-aging process through their antioxidant properties and support skin maintenance.
Together with a host of magnificent natural botanicals this supplement delivers an edge over the rest. Utilizing Rosemary, Stinging Nettle, Horsetail and naturally derived Lutein your clients will notice and feel the results of this product and you will stand at the forefront of science being able to draw upon wisdom of the ages.
We offer a complete line of manufacturing options for our clients. Having supplied thousands of clients we understand your needs and will provide to you the most cost-effective and streamlined process together with the highest degree of satisfaction and quality control in the industry ranging from formulation to private labelling.
Our state-of-the-art manufacturing facility use the most advanced technologies to produce our supplements, vitamins, and other nutrition products. All manufacturing and testing is conducted in our FDA inspected and registered facility according to GMP-certified facilities.
Need help creating the perfect label? We can help.
Contact a Rep for best pricing Now!
Phone: 801-788-4350
Who is Intermountain Nutrition:
Additional information:
Weight 0.4 lbs | Bottle Color White | Servings 30 | Count 60 | Lid Color White | Bottle Type HDPE | Bottle Size 100cc | Capsule Size 0
*These statements have not been evaluated by the Food and Drug Administration. This product is not intended to diagnose, treat, cure, or prevent any disease.