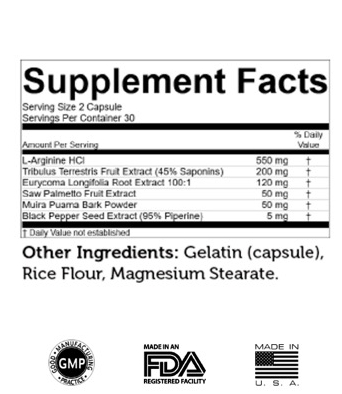 Male Enhancement
A complete enhancement formulation in one capsule that is perfectly balanced to support the multiple systems involved to deliver desire, stamina, performance, and enjoyment. This is a professional grade product that absolutely drives results that can in turn generate plenty of testimonials.
Increased blood flow maximizing expansion

Stamina, Endurance, and Enjoyment

Support of multiple natural processes

Works with your body for comprehensive enhance
Enjoy increased blood flow throughout the body with L-Arginine whose discovery won the Nobel Prize for it's properties to treat congestive heart failure and assist in the proper circulation of blood throughout the body.
Found in small amounts in our diet this building block cannot be produced by the body but is delivered in full force with this supplement. When metabolized it it dilates blood vessels throughout the body allowing for higher performance levels of muscles, heightened mental acuity, greater blood flow and sensitivity in highly vascular areas of the body. Used in the treatment of ED this powerful and necessary ingredient delivers.
Saw Palmetto works to protect against the breakdown of testosterone in the body thereby supporting a healthy and full-functioning prostate. The retention of testosterone through this natural process enables the increase of libido and performance.
The other botanical ingredients have also been carefully dosed and matched to give a well rounded and fully potent punch of results to its user. Working to enhance physical performance, endurance, and stamina this supplement also delivers on deeper levels by targeting desire, urge, and emotion through supplementing the hormonal, neurotransmitting and mental processes of the user.
We offer a complete line of manufacturing options for our clients. Having supplied thousands of clients we understand your needs and will provide to you the most cost-effective and streamlined process together with the highest degree of satisfaction and quality control in the industry ranging from formulation to private labelling.
Our state-of-the-art manufacturing facility use the most advanced technologies to produce our supplements, vitamins, and other nutrition products. All manufacturing and testing is conducted in our FDA inspected and registered facility according to GMP-certified facilities.
Need help creating the perfect label? We can help.
Contact a Rep for best pricing Now!
Phone: 801-788-4350
Who is Intermountain Nutrition:
Additional information:
Weight 0.4 lbs | Bottle Color Black | Servings 30 | Count 60 | Lid Color Black | Bottle Type HDPE | Bottle Size 150cc | Capsule Size 0
*These statements have not been evaluated by the Food and Drug Administration. This product is not intended to diagnose, treat, cure, or prevent any disease.