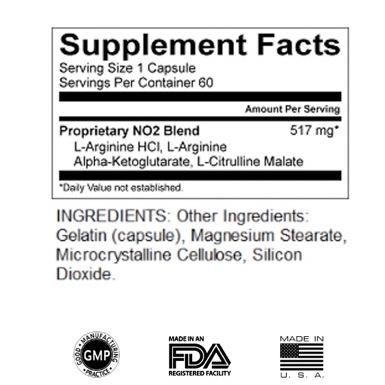 NO2 - Nitric Oxide
Nitric Oxide expands blood vessels in the body to allow increased flood blood flow resulting in multiple significant outcomes including increased energy levels, muscle pump during and after workouts, stimulation of muscle growth, and heightened performance and endurance.
Enhance blood flow, circulation, and vascularity

Improve recovery time

Optimize delivery of nutrients to muscles

Sustain performance and endurance
This supplement is comprised of the perfect balance of amino acids working together across aerobic and anaerobic applications. The ingredients work in symphony to allow for faster action and for sustained results over the use of the supplement. With increased circulation the body is able to flush muscles and systems of acids and toxins that can inhibit performance.
Nitric oxide increases blood flow and improves muscular tone through vasodilation and oxygen delivery. Better blood flow means more nutrients to muscles, thus helping muscles recover more quickly and become larger when subject to stress.
We offer a complete line of manufacturing options for our clients. Having supplied thousands of clients we understand your needs and will provide to you the most cost-effective and streamlined process together with the highest degree of satisfaction and quality control in the industry ranging from formulation to private labelling.
Our state-of-the-art manufacturing facility use the most advanced technologies to produce our supplements, vitamins, and other nutrition products. All manufacturing and testing is conducted in our FDA inspected and registered facility according to GMP-certified facilities.
Need help creating the perfect label? We can help.
Contact a Rep for best pricing Now!
Phone: 801-788-4350
Who is Intermountain Nutrition:
Additional information:
Weight 0.4 lbs | Bottle Color Black | Servings 30 | Count 60 | Lid Color Black | Bottle Type HDPE | Bottle Size 150cc | Capsule Size 0
*These statements have not been evaluated by the Food and Drug Administration. This product is not intended to diagnose, treat, cure, or prevent any disease.