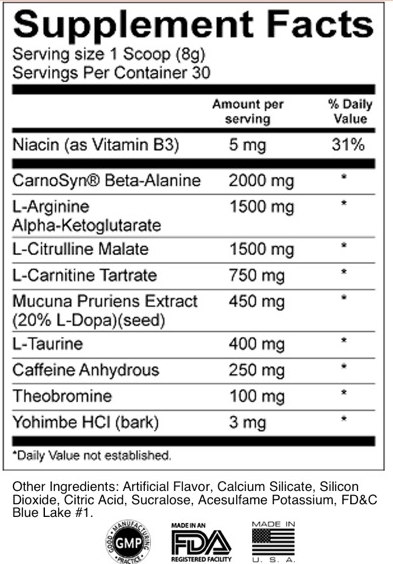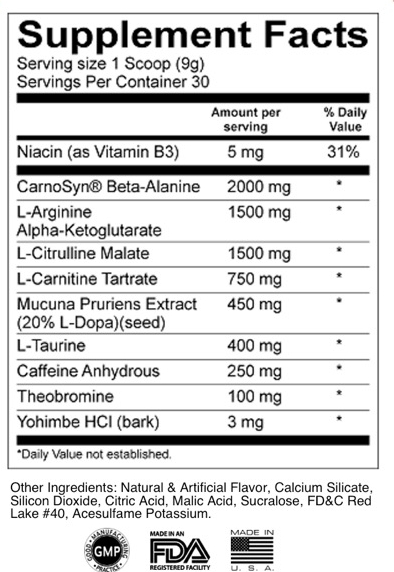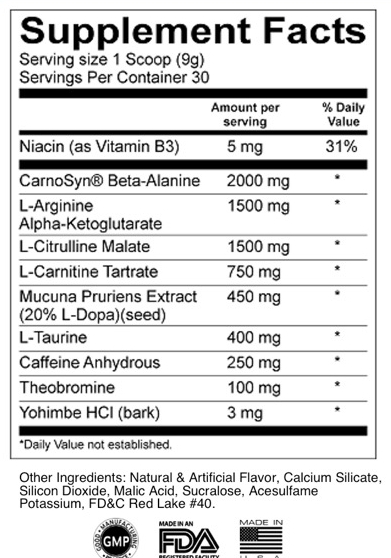 Pre-Workout
Blue Raspberry | Cherry | Watermelon | Tigers Blood
Carefully formulated, extensively tested and refined our pure ingredients are rapidly absorbed to deliver unparalleled results. Working with essential amino acids and Nitric Oxide to supply body and brain with the flow and nutrition required to focus and pump workouts to new levels.
Increase Workout intensity and duration

Supports increased muscle output

Enhanced Mental Focus

Delivers increased vascularity and pump
Scientifically formulated, one of the keys to this pre-workout is its ability and reputation to perform without giving users the jitters. Relying on the highest quality inputs orchestrated in perfect balance we deliver the optimal stimulation for increased energy levels.
With the inclusion of Beta Alanine and L-Carnitine together with other co-factors workouts can last longer and go harder.
Extended workouts, higher levels of intensity, more full blood flow and circulation of purging of lactic acids lead to optimal muscle build, quicker recovery, and reduced soreness.
We offer a complete line of manufacturing options for our clients. Having supplied thousands of clients we understand your needs and will provide to you the most cost-effective and streamlined process together with the highest degree of satisfaction and quality control in the industry ranging from formulation to private labelling.
Our state-of-the-art manufacturing facility use the most advanced technologies to produce our supplements, vitamins, and other nutrition products. All manufacturing and testing is conducted in our FDA inspected and registered facility according to GMP-certified facilities.
Need help creating the perfect label? We can help.
Contact a Rep for best pricing Now!
Phone: 801-788-4350
Who is Intermountain Nutrition:
Additional information:
Weight 1.0 lbs | Bottle Color Black | Servings 30 | Lid Color Black | Bottle Type HDPE | Bottle Size 20 oz
*These statements have not been evaluated by the Food and Drug Administration. This product is not intended to diagnose, treat, cure, or prevent any disease.