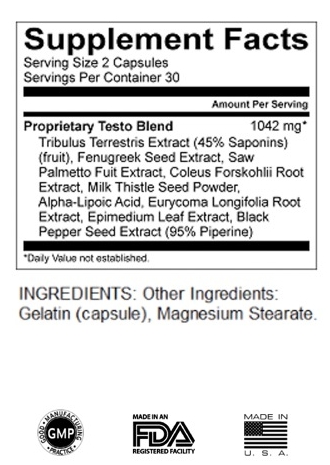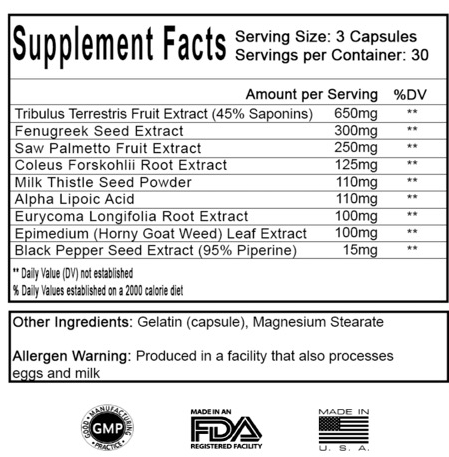 Testosterone Booster
60 count | 90 count
Engage with the best that science and nature have to offer in this core product for men seeking to enhance their testosterone levels or increase physical performance. Supporting natural testosterone production enables the building of muscle mass, raising libido, enhancing bone density, increasing the absorption of dietary proteins and endurance.
Enhance Testosterone levels naturally

Promote the production of HGH and increased muscle mass

Increase libido and energy levels

Fight Stress

Elevate physical performance
This is the perfect product to span multiple market segments from professional athletes to the elderly. Male testosterone levels begin fading as early as in one's 20's. These levels naturally decline leading to feelings of fatigue, loss of muscle mass, and loss of overall drive. Over 40% of men over 45 suffer from low testosterone levels.
Leveraging a host of natural ingredients in a complex and scientifically dosed formulation this supplement supports the body to safely and naturally retain testosterone levels and stimulate increased production. Backed by scientific studies and supported by thousands of satisfied clients this is your perfect testosterone boosting product offering.
We offer a complete line of manufacturing options for our clients. Having supplied thousands of clients we understand your needs and will provide to you the most cost-effective and streamlined process together with the highest degree of satisfaction and quality control in the industry ranging from formulation to private labelling.
Our state-of-the-art manufacturing facility use the most advanced technologies to produce our supplements, vitamins, and other nutrition products. All manufacturing and testing is conducted in our FDA inspected and registered facility according to GMP-certified facilities.
Need help creating the perfect label? We can help.
Contact a Rep for best pricing Now!
Phone: 801-788-4350
Who is Intermountain Nutrition:
Additional information:
Weight 0.4 lbs | Bottle Color Black | Servings 30 | Count 60/90 | Lid Color Black | Bottle Type HDPE | Bottle Size 150cc | Capsule Size 0
*These statements have not been evaluated by the Food and Drug Administration. This product is not intended to diagnose, treat, cure, or prevent any disease.