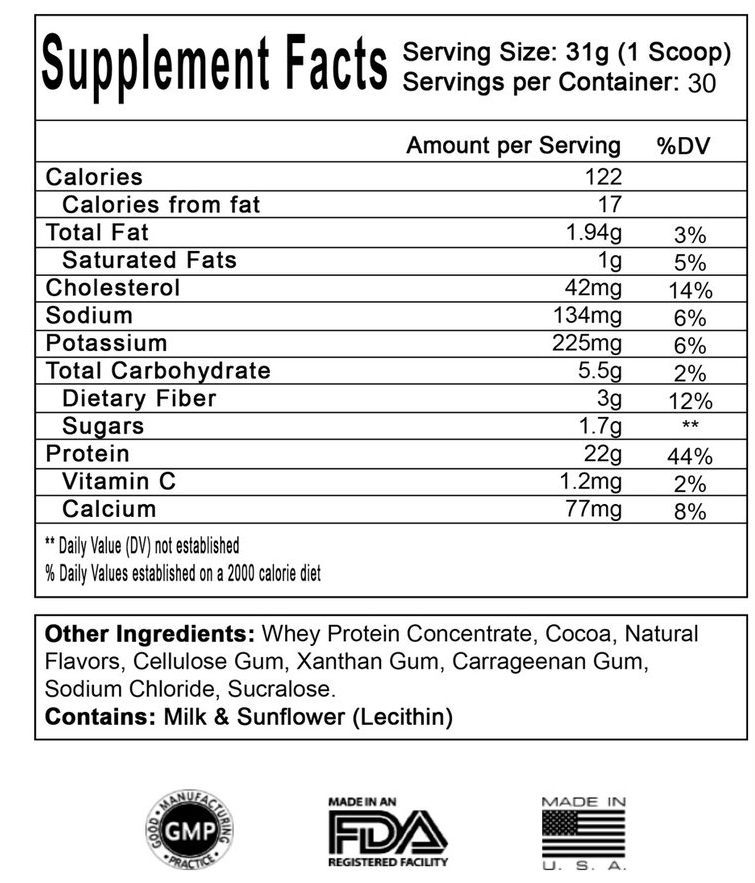 Whey Protein
Chocolate | Vanilla
Our clean Whey protein delivers the support for healthy conscious users satisfying the full spectrum from professional athletes to casual users. Our protein provides the convenience of clean non-clumpy mixing for quality nutrition on the go. Taste the goodness our proprietary flavor profiles deliver and feel the difference in this clean whey protein.
Increase Lean Muscle Mass

Promote Fat Loss

Enhance Recovery time and Decrease Muscle soreness
Packed with benefits such as greater nutrient availability, higher conjugated linoleic acid (CLA), and a boost in omega-3's that benefit the body by acting as an anti-inflammatory. Whey can help preserve naturally occurring protein fractions that boost your immune system and increase production of your body's most powerful antioxidant, glutathione.
Maximize your recovery by shaking up and gulping down this high quality whey protein powder within 30 minutes after your workout. Doing so will help enhance your muscle growth, and minimize muscle damage and soreness.
Using Protein as a powerful supplement meal can also support healthy weight loss because the amount of CLA is 3-5 times higher in grass-fed whey than commercial whey products. CLA's have been shown to enhance muscle growth and metabolism which helps the body to burn fat while the protein helps to satisfy your appetite, helping to prevent overeating.
We offer a complete line of manufacturing options for our clients. Having supplied thousands of clients we understand your needs and will provide to you the most cost-effective and streamlined process together with the highest degree of satisfaction and quality control in the industry ranging from formulation to private labelling.
Our state-of-the-art manufacturing facility use the most advanced technologies to produce our supplements, vitamins, and other nutrition products. All manufacturing and testing is conducted in our FDA inspected and registered facility according to GMP-certified facilities.
Need help creating the perfect label? We can help.
Contact a Rep for best pricing Now!
Phone: 801-788-4350
Who is Intermountain Nutrition:
Additional information:
Weight 2.0 lbs | Bottle Color White | Servings 30 | Lid Color White | Bottle Type HDPE
*These statements have not been evaluated by the Food and Drug Administration. This product is not intended to diagnose, treat, cure, or prevent any disease.